Prices
The Fisherman's Rest has a ground floor, a first floor and a huge upper terrace.
 All in all, in terms of accommodation, four double guest houses and two bathrooms with bathtub and toilet.
The Fisherman's Rest offers you three renting choices:
The whole house (available for 4 x 2 p. max.)
One or more separate rooms, and the respective common areas on that floor
The groundfloor as a two rooms / one bathroom appartment
Every room benefits from its own decoration and from a reference color which gives her a name:
Contact André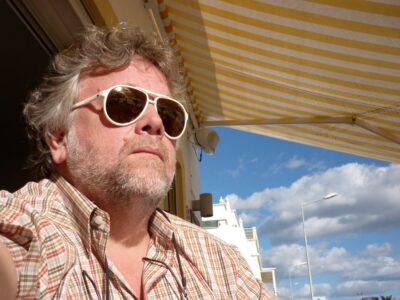 email: andre@vivalgarve.com
tel: (+351) 964125102
Languages:
English, Français, Italiano, Português
Activities: Polygraph and plumitive, thrill-seeker, croque-Mot, gift coyote, mindful observer, ornitophile, …
International Superior Consultant of Management of Public Organizations, Specialist and Quality Listener (Service in particular), factor and coach of local business initiatives.
Motto: «esto quod es»
But still:
A citizen of the world open to all cultures, to the new shared economy and to reasonable agriculture, I am pleased to go out to meet the Other without any pretension other than to share and contribute to bring him a few moments of true happiness in the present.