Prices
You stay at the heart of the village, in the front line, with an exceptional sight on the fishing port and the channel, In front of the fishers' wooden huts as well as the ramp of access for the small boats.
You'll be meeting the sunrise every morning just in front of the house, before seeing it again in the afternoon.
The Fisherman's Rest looks onto a vast square where sometimes, you'll take advantage of one or the other small local market. The immediate neighborhood is made by small living houses.
At the same time you are very close to the lagoon and the multiple bars and restaurants of any categories.
It is also for you the starting point towards the famous beaches (Praia do Barril and its small touristic train, Ilha Estreita and its scheduled service of boats) you can easily join by walk.
Also you can go on foot, in bike or by car in the charming neighboring town of Tavira as well as to another beach called Ilha de Tavira (public boat).
Contact André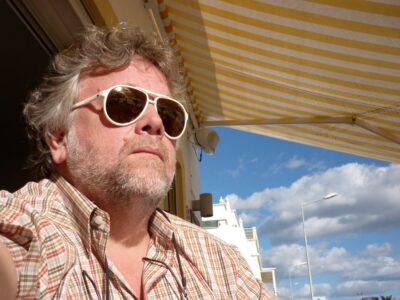 email: andre@vivalgarve.com
tel: (+351) 964125102
Languages:
English, Français, Italiano, Português
Activities: Polygraph and plumitive, thrill-seeker, croque-Mot, gift coyote, mindful observer, ornitophile, …
International Superior Consultant of Management of Public Organizations, Specialist and Quality Listener (Service in particular), factor and coach of local business initiatives.
Motto: «esto quod es»
But still:
A citizen of the world open to all cultures, to the new shared economy and to reasonable agriculture, I am pleased to go out to meet the Other without any pretension other than to share and contribute to bring him a few moments of true happiness in the present.