Prices
Dressed in full light and fully furnished to the taste of the day, it offers a vast living-dining room, a fully equipped kitchen adjoining a vast storage room, three double bedrooms with wardrobes and two full and spacious bathrooms.
The living and night places have air conditioning recently installed.
You have a reliable WiFi connection (NOS) and a large screen TV.
Large mixed fridge freezer, round table 4 seater, microwave oven, cooker 4 gas spouts and oven, washing machine, dishwasher, small multiple appliances (juicers, toaster, fan, etc.).
Pets are normally not accepted.
Contact André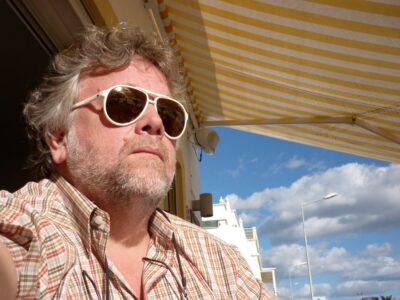 email: andre@vivalgarve.com
tel: (+351) 964125102
Languages:
English, Français, Italiano, Português
Activities: Polygraph and plumitive, thrill-seeker, croque-Mot, gift coyote, mindful observer, ornitophile, …
International Superior Consultant of Management of Public Organizations, Specialist and Quality Listener (Service in particular), factor and coach of local business initiatives.
Motto: «esto quod es»
But still:
A citizen of the world open to all cultures, to the new shared economy and to reasonable agriculture, I am pleased to go out to meet the Other without any pretension other than to share and contribute to bring him a few moments of true happiness in the present.