Prices
Address:
Sítio das Pedras d'el Rei 425A
8800-536 Santa Luzia, Portugal
The geographical coordinates are 37°6'14.14''N – 7°40'25.42''W
Open in Google Maps
By car: Please follow the blue line on the map above as some other roads are closed.
Coming from the EN125 turn to the the M1347 direction Pedras d'El Rei.
Cross the railway, then turn the 1st to the left.
Turn to the second on your left (500m).
Straight ahead for 600m and you've arrived to QuintaLuz!
To get a taxi, pls contact us.
By Public Transports:
Nearest airports are Faro and Sevilla.
From Faro you can get to Tavira by bus (EVA) or train (CP).
From Sevilla you can rent a car or take a bus to Tavira.
(we will send you the specific directions after you have made your booking).
Walking distance from QuintaLuz
up to the entrance of Santa Luzia's village: 1,2 km
up to the dike (lagoon) of Santa Luzia's village : 1,8 km
up to Pedras d'El Rei: 2 kms
Rent-a-bike also possible in Santa Luzia
Contact André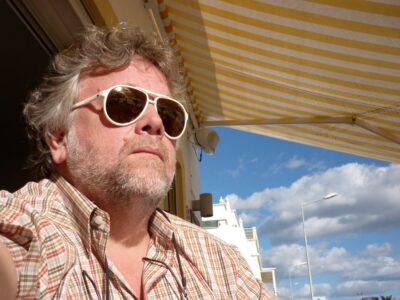 email: andre@vivalgarve.com
tel: (+351) 964125102
Languages:
English, Français, Italiano, Português
Activities: Polygraph and plumitive, thrill-seeker, croque-Mot, gift coyote, mindful observer, ornitophile, …
International Superior Consultant of Management of Public Organizations, Specialist and Quality Listener (Service in particular), factor and coach of local business initiatives.
Motto: «esto quod es»
But still:
A citizen of the world open to all cultures, to the new shared economy and to reasonable agriculture, I am pleased to go out to meet the Other without any pretension other than to share and contribute to bring him a few moments of true happiness in the present.