Prices
By renting the complete house you will have access to all that it offers: huge terrace with water source (hot/cold) + BBQ, four double rooms, two bathrooms + WC, a kitchen, a living room.
You can also access the facilities offered by the municipality on the front square.
If you rent one or two rooms on the 1st floor, you will have access to a bathroom of floor as well as to the upper terrace.
We are easily available as we live 5' away from the Fisherman's Rest.
Feel free to contact us in case of specific needs or help.
Contact André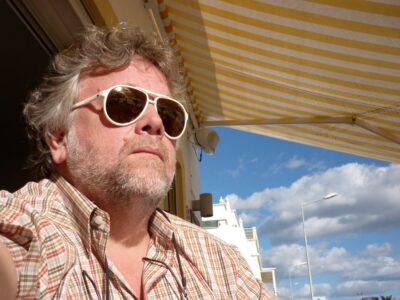 email: andre@vivalgarve.com
tel: (+351) 964125102
Languages:
English, Français, Italiano, Português
Activities: Polygraph and plumitive, thrill-seeker, croque-Mot, gift coyote, mindful observer, ornitophile, …
International Superior Consultant of Management of Public Organizations, Specialist and Quality Listener (Service in particular), factor and coach of local business initiatives.
Motto: «esto quod es»
But still:
A citizen of the world open to all cultures, to the new shared economy and to reasonable agriculture, I am pleased to go out to meet the Other without any pretension other than to share and contribute to bring him a few moments of true happiness in the present.